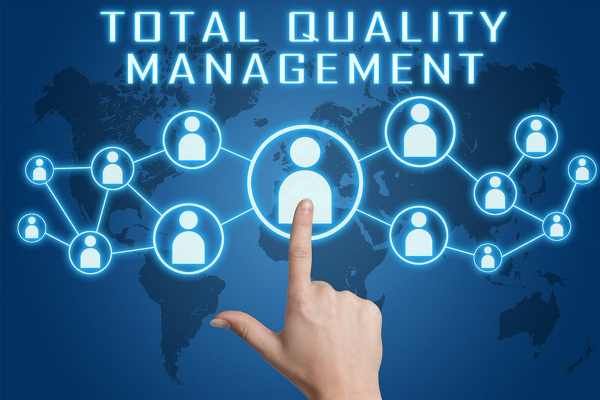 Total Quality Management
Quality is a criterion used to determine whether a product or service is superior or inferior to others. Total Quality Management (TQM) is the implementation of a management approach to continuously improve products and services across an organization. Total Quality Management (TQM) requires that all parties, from management to employees, work towards a common goal of ensuring customer loyalty and satisfaction; a way of differentiating your organization from the competition.
Total Quality Management (TQM), originated in the industrial sector of Japan in 1954. Since then, the concept has been developed and is currently being used in almost all types of organizations across numerous fields such as education, medicine, banking, hotels and manufacturing to name a few. TQM, can be set up by the organization or can follow a set of industry standards like the International Organization for Standardization (ISO) in the ISO 9000 series.
TQM is based on 7 Quality Management Principles (QMP):
Customer Focus
Customers are the ones that determine the quality of products or services. No matter how much effort has been put into training personnel, acquirement of new equipment or improvement in processes, the customer's feedback will indicate if these changes were worthwhile.
Leadership
A vision and a clear direction must be established for all to work towards a common goal. Additionally, strategies, structures and systems must be in place to achieve the mission and vision of the organization. Good leadership involves modeling of values, establishing trust, empowering employees, providing them with the required tools and recognizing their contribution.
Engagement and Competence of People
All members of the organization must work towards a common goal. Each individual's involvement through initiative and contribution is a step towards attaining good quality products and services.
Process Approach
Process thinking is fundamental in TQM. A process is a series of activities that define a particular way of accomplishing a task using inputs for production of the desired outputs delivered to the end customers. Performance measurements are monitored to detect variations and bring any needed modification to the given process.
Improvement
Continuous improvement pushes organizations to analyse and use creative thinking to render processes more effective as well as become more competitive in answering stakeholder's expectations.
Informed Decision Making
In order to make an informed decision, factual data is needed. TQM requires constant collection of information from performance measurements to be analysed for assessment of how well the organization is doing, for better decision making and allow for predictions based on past history.
Relationship Management
Communication is a key element in TQM at all levels of the organization from day-to-day operations to major changes. Communication implies strategy, methodology and timeliness.
Total Quality Management is a concept rather than a system. It's a way of thinking that is incorporated into an organization and its culture